Town Centre Cycling Restrictions
In February 2016 Bedford Borough Council under section 59 of the Anti-Social Behaviour, Crime and Policing Act 2014 took the decision to put in place a Public Space Protection Order (PSPO) to restrict cyclists from riding bikes through the main pedestrian area of Bedford Town Centre between designated times, allowing both authorised Local Authority and Police Officers to enforce the restriction using a fixed penalty notice regime. The order came into force on 16 May 2016 for a period of three years until 15 May 2019.
A consultation was published by the Borough in March 2019 to assess whether it should be extended and as a result a new order was signed on 19 June 2019 for a further three years.
The PSPO complemented an existing Traffic Regulation Order (TRO) in place which restricted cyclists from riding through the pedestrian area during the same times. It had the additional benefit of allowing authorised Local Authority staff to enforce the restrictions in the same manner as Police Officers.
The restriction states that no person shall cycle/ride bicycles through the main pedestrian area of the town centre between the designated times (09:00hrs and 18:00hrs). A map of the town centre area to which it applies can be downloaded here.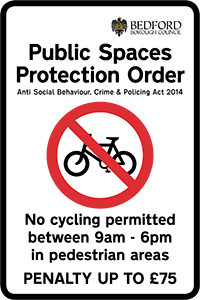 In March 2018 Bedford Borough Council took the decision to retain the fixed charge of £75 without allowing for any early repayment discount which had previously applied.
Reference
The Public Spaces Protection Order 2019 can be seen here.
&nbsp
&nbsp
&nbsp
&nbsp