Cycle Training
Bikeability is based on the National Standard for Cycle Training, which has been designed by the leading experts in the field of road safety as well as cycling.
The principal outcome of Bikeability is
'More people cycling more often and more safely'
Bikeability students are encouraged to learn interactively as opposed to simply being told what to do.
The courses are designed to be both educational and enjoyable with the emphasis on safety. Learning to cycle safely can make an enormous contribution to some of society's biggest challenges, in particular sustainable travel and health. Bikeability is one activity among a number of projects developed to influence travel choice.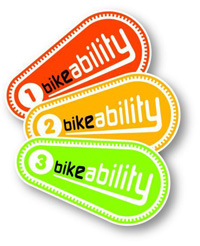 Bikeability is designed to give cyclists the skills and confidence to ride their bikes on today's roads. There are three levels:
Level 1 - offers basic bike handling skills in a controlled environment away from the roads.
Level 2 - is taught on-road and teaches children to cycle planned routes on local familiar roads offering real cycling experience.
Level 3 - will ensure cyclists can ride safely and competently in all traffic conditions.
Local Courses
Cycle training in Bedford for children and those adults who have never cycled or have not cycled for some time is available from a number of sources.
Bedford Borough Council each year receives a grant from the government to give free cycle training to Bikeability Level 1 to year 4 pupils (aged 8) and Level 2 to year 6/7 pupils (aged 10/11) in the borough's primary and secondary schools. Some limited availability Level 3 training is available to pupils in secondary schools who have already completed Levels 1 and 2. All the Bikeability cycle training courses are now outsourced to Outspoken Training.
In the first instance it is recommended that your child's school is contacted to check if they are running courses. If they are not, ask them why not and strongly suggest them to consider doing so.
For further details contact: (01234) 228336 or e-mail: road.safety@bedford.gov.uk.
Bedford Borough Council Sports Development Unit have organised cycle lessons during the summer in previous years for children from 10 to 15 years old to Bikeability Level 2 comprising of practical and theory sessions over 4 half days.
No courses are being offered in 2019. For details of future courses for both children and adults contact 01234 718827.
Bedford Modern School as part of their Holiday activity courses also run Bikeability Level 2 courses for 10 to 14 year olds at Manton Lane, Bedford.
For details of their next courses contact: 01234 332667 or e-mail: holiday@bedmod.co.uk. All current holiday activity courses are shown on their website here.
Adult Beginners Cycle Course
Sustrans has for a number of years offered an Adult Beginners Cycle Course which is for adults who are unable to ride a bike and would like to learn. The course is led by an experienced cycle trainer and can take place where ever is convenient for you within the Bedford area. If you don't have a bike, one can be loaned to you. This course lasts about 1.5 hours and costs £5 , payable in advance. If you, or someone you know, are interested in finding out more please contact Bedford@sustrans.org.uk or call 01234 276 048.
There are also a number of independent qualified trainers.
Further Information
For further information on cycle training contact the Bedford Borough Council Road Risk Advisory Team on 01234 228336 or visit the Bikeability website.
For the latest (October 2018) National Standard for cycle training which is a statement of competent cycling and cycling instruction visit the Department for Transport website.
The document sets out the skills and understanding needed to cycle safely and responsibly and to enable others to cycle. The standard provides the basis for Bikeability and a range of adult cycle training programmes.
Cycling UK
In 2015 Cycling UK (originally CTC) - the national cycling charity in the UK - published a video on 'How to teach an adult to ride a bike quickly'
together with a simple step-by-step guide here
Back to Campaigning