Wixams to Bedford Link
Wixams, just south of Bedford, when completed will consist of four villages each with its own centre, built around a town centre. The community is expected to be around 10,000 (4,000 homes) with the possibility to expand to 15,000.
The development is being designed to facilitate the safe movement of residents by cycle as well as walking and public transport. Planning approval has already been given for a new railway station located on the west side of the site although its construction, originally scheduled for completion during 2015, has now slipped.
The first village known as Lakeview, started in 2009, has now been completed and work is currently in progress on Village Two and Village Three.
The consequences of the development are already being felt along Ampthill Road with significant increases in traffic into Bedford resulting in high levels of congestion, queuing, and emission and noise pollution. This is likely to get progressively worse as the development continues even following the completion of the Western Bypass A4280/A6 link in April 2016.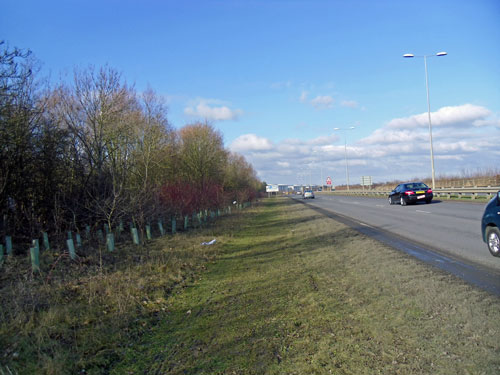 There is no possibility to widen Ampthill Road to cope with all the extra traffic. One solution, apart from using public transport, is to encourage more residents to consider using a bicycle as a quick, safe and easy way of reaching Bedford town centre and other nearby facilities.
It is therefore important that the missing link in the direct cycle route from the Wixams to Bedford is completed as soon as possible. The link still to be constructed is from the Elstow Waste Depot entrance to the A6/A421 interchange and then across a signalled junction to the existing cycle track through Progress Business Park.
Highways England (originally Highways Agency) in March 2015 was awarded a grant from the Department for Transport to cycle proof the junction. Draft plans produced have been approved by both Bedford borough Council and CCNB and the project is expected to be completed during the 2016/17 financial year.
The link was origianlly part of the Section 106 agreement for the Wixams development but was put on hold in 2011 until the interchange was signalled for the proposed National Institute for Research in Aquatic Habitats (Nirah) aquarium project in an old brick pit near Stewartby. The project has now been abandoned.
In addition the whole cycle route should be upgraded from the West End junction across all side roads*, extending the off-road route to Britannia Road, with cycle lanes along Britannia Road for experienced cyclists and a toucan crossing of Kempston Road for those cyclists using Victoria Road and the Britannia bridge to the riverside. An off-road cycle route around the Wilmers Corner roundabout in conjunction with cycle/pedestrian zebra crossings should also be provided.
* A section of the Ampthill Road cycle route across its junctions with Cosmic Avenue and Sexton Avenue was improved in March 2015.
Back to Campaigning